Lisboa
The region of Lisboa takes its name from the capital but its vineyards stretch almost 100km above it. As many as nine different appellations of origin testify to a rich tradition'. This came under pressure in the 20th century, but now a new generation is reviving it.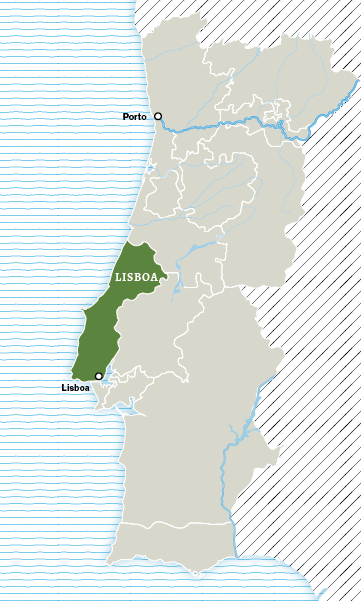 Despite the recognition of 9 appellations in the Lisboa region, 90% of its production is marketed as Vinho Regional, so you hardly come across bottles that mention any of those 9 appellations on the label. This is the result of a decades-long focus on quantity rather than quality.
15 large cooperatives dominated the area, making it immediately the most productive region in Portugal. Unfortunately, the focus was not always on quality and most DOPs thus lack identity.



In Alenquer, Arruda, Encostas d'Aire, Lourinhã, Obidos and Torres Vedras, there are hardly any producers to give the appellation a face.
In addition, the urbanisation of Lisboa has pushed some of the most interesting DOPs into decline. Carcavelos was almost completely wiped off the map,
the notorious vineyards of Colares have to be searched with a magnifying glass and the majority of the remaining vines in Bucelas
are seeing their grapes disappear into the vats of two very large producers.


The natural approach
That changed recently and now the Lisboa region is perhaps the most dynamic in Portugal.

Young winemakers can find a vineyard here much more easily than in, say, the Douro or Dão with few resources, and are doing so in increasing numbers.
For now, these are very small volumes, but of excellent quality.
Remarkably, this new generation resolutely opts for a more natural approach. This makes for wines brimming with energy, partly because the cool sea breeze provides grapes with good acidity and partly because the natural approach makes the most of that base of energy.


Jouw Dynamic Snippet wordt hier weergegeven ... Dit bericht wordt weergegeven omdat je niet zowel een filter als een sjabloon hebt opgegeven om te gebruiken.