Dão
The Dão competes with the neighbouring Bairrada region for the title 'Burgundy of Portugal'. Consequently, the best wines, in both white and red, show great finesse and complexity. Their storage potential is also striking. Even simpler Dão wines endure long bottle aging with telling ease, and the finest crus gain enormous quality after 15 years of bottle aging.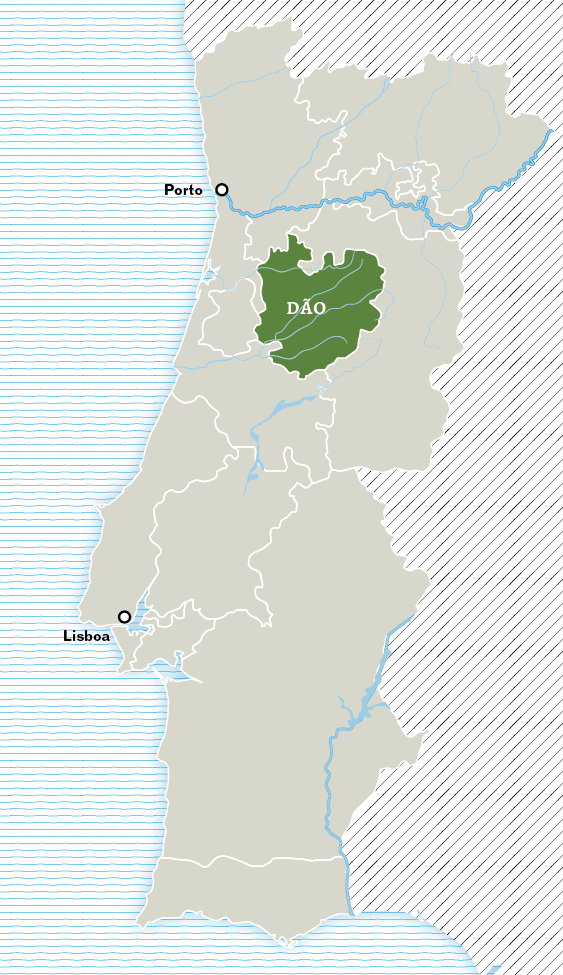 The Região Demarcada Dão celebrated its 100th anniversary in 2008. This immediately makes the region one of the oldest recognised areas of origin in Europe. However, the quality of its wines remained a well-kept secret for a long time.
Indeed, the Dão is a fairly small and fairly fragmented wine region. The rocky hilly landscape is too inaccessible to plant vines in many places. Most plots are small, so a lot of owners of high-quality vineyards prefer to sell their grapes to cooperatives rather than develop their own production.





It is difficult for young, ambitious winemakers to find a good vineyard. Owners are not easily inclined to sell or rent.


Yet a handful of producers are proving that the potential is huge.The mild climatic conditions are therefore the best in Portugal for those who want to produce refined, complex wines. Located in the northern part of Portugal, the Dão is completely surrounded by mountains. The natural amphitheatre they form protects against extreme temperatures.

This makes the Dão easily identifiable on weather maps as the zone with the lowest average temperatures in August and September, the months that make all the difference for viticulture.

Moreover, most of the vineyards are located at an altitude of more than 400m, and towards the south-east of the region we even rise above 800m. The grapes ripen very evenly and the necessary acidity is retained.
The plateau of the Dão is composed of granite. This gives the opportunity to make wines with a distinct mineral character.


White wines are produced mainly with the local varieties Encruzado, Malvasia and Cercial and Bical. For reds, they opt for Touriga Nacional, Tinta Roriz, Jaen, Alfrocheiro Preto and Baga.


Surface: 13.000ha
Yearly annual production: 280.000hl
In comparison:
Bourgogne: 27.188ha for 1.400.000hl
/ Bordeaux: 120.000ha for 6.000.000hl

Jouw Dynamic Snippet wordt hier weergegeven ... Dit bericht wordt weergegeven omdat je niet zowel een filter als een sjabloon hebt opgegeven om te gebruiken.