Porto
Under the cork of a good port lurks a magical world of tradition and authentic drinking pleasure. The best bottles tell the story of age-old craftsmanship, patient maturation and unique flavour development.
Portotypes, a simple explanation for a complex tradition of aging and blending.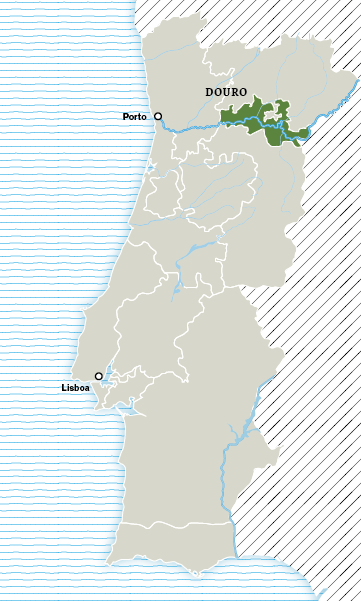 We distinguish 2 main types named after their colour, 'ruby' and 'tawny'. The different types are created by a selection of vineyards (based on age, grape variety and location) and a selection of barrels by the cellar master (based on concentration and aging behaviour). Most ports are precise blends of young and older wines, except when a year is mentioned on the bottle.


Ruby Port
Colour: Ruby red
The gist: Cask maturation is limited, thus the wine retains its dark red colour intensity
Quality levels:
Ruby: bottling after 2 years of barrel maturation and immediately on the market
Ruby Reserve: the more concentrated barrels mature for an additional 1-2 years


Late Bottled Vintage: the wines with nice storage potential are aged in barrel for 5 years. This makes them immediately accessible after bottling, while the best ports then easily improve for another 10 to 20 years in bottle.
Vintage: the best, old vineyards produce highly concentrated juice that is bottled after a 2-year aging in barrel. Those who drink them in the first 2 years after bottling enjoy a sensational explosion of flavour, but after that the wine closes in and demands patient bottle aging. For Vinta lovers, this is when the charm of a storage ritual begins where you tap your case at the earliest after 20 years.
It an outdated practice, but it is still a delightful experience to contemplate your collection of Vintage Port knowing that the future will be especially generous, for yourself and future generations. The best bottles defy the ages with no problem.
​


Tawny Port
Colour: tan, brownish
The gist: through barrel aging, the wine undergoes controlled oxidation that breaks down the red pigment while crafting an evolution of flavour.
Quality levels: Tawny: bottling after a relatively short maturation in barrel and immediately on the market.
Tawny Reserve: after an average of 6-8 years of aging, the wine shows a transition from young wine aromas to flavours of evolution.
10, 20, 30, over 40 Years old: blend of casks with an average age of 10, 20, ...
Colheita: in the best vintages, the barrels of that year are aged and bottled separately. The bottle then also states the vintage. The legal minimum is a 7-year barrel aging, but the best colheitas are aged much longer before going into bottle. At the best producers, you can still find barrels from the 19th century quietly maturing further.






When pouring
- A bottle of port is traditionally passed from right to left at the table. It used to be considered a sign of friendship to the person to your left: while you poured the port with your right hand, you could not draw your sword or revolver.
- In Portugal, but especially in England, where drinking port became the art of living, the bottle of port comes to the table only towards the end of the meal. After all, the best ports come out at their maximum with cheese and dessert.
- Always serve port between cellar and room temperatures, preventing the alcohol from dominating and giving maximum opportunity for finesse and complexity.
- Store an opened bottle in a cool place to preserve its quality for longer.

Jouw Dynamic Snippet wordt hier weergegeven ... Dit bericht wordt weergegeven omdat je niet zowel een filter als een sjabloon hebt opgegeven om te gebruiken.